The BG 12/16 Sailplane - N7438 - My 2nd Flight
by Paul R. Jorgenson - KE7HR
After some weather delays and a bit of a cold, I was able to make the canopy latching system much more secure. This made me ready for my second flight in "Old Yeller". Gwen and I went out to the glider airport on Saturday morning and assembled the glider. During the assembly I was able to make the final adjustments to the canopy latches and make the radio cable attach to the handheld radio. It was soon time to pull into the line of gliders waiting to takeoff.
Gwen took the pictures for the occasion again and spent a boring time on the ground while I was aloft.
This flight happened on a pleasant Saturday afternoon, March 3, 2001, at the Pleasant Valley Airport, northwest of Phoenix.
---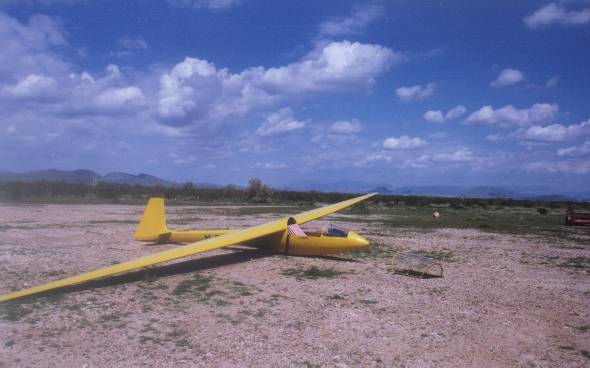 The ship is nearly ready. All of those clouds have nice thermals under them!
---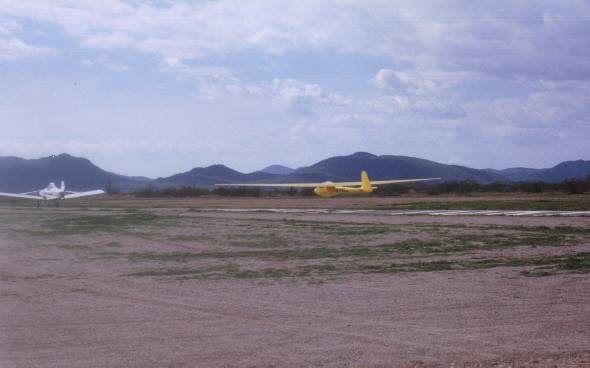 Here I am on the second takeoff. The position is good behind the tow plane.
---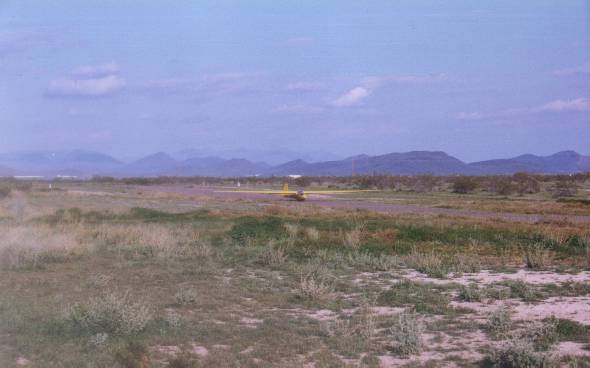 Landing after 2 hours 39 minutes aloft.
---
This flight allowed me to test more of the flight envelope of the glider. The ability to climb in the thermals made for a pleasant flight, but I never got more than about 5 or 6 miles away from the airport. From a low point of 3600 feet I was able to climb up to 7200 feet (the airport is at 1600 feet) where I needed to shut off the air vent - it was getting cold!
I was able to climb with some of the other higher performance gliders, just fine. When the required 10 hours of local flight are complete (and the paperwork done...) I look forward to trying out some cross country flights. The performance of the glider is quite nice. The air was a bit too rough for solid numbers, but I am guessing that the glide ratio is in the neighborhood of 32 or 33 to 1. Not quite the published 36 to 1 - 36 feet forward for every foot of altitude lost - but still respectable. So far there has not been too much thought to making the glider more efficient, this will come later.
This flight of 2 hours 39 minutes nearly equaled the total time on the glider (2:45) when I bought it. This is going to be a fun ship!
What do you do when it is raining out and cannot fly? Why build a Glider Time clock, of course! Have you ever been accused of obsessing over something? Not me...
---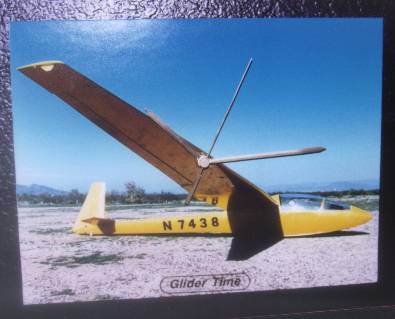 N7438 Glider Time. Order yours today.
---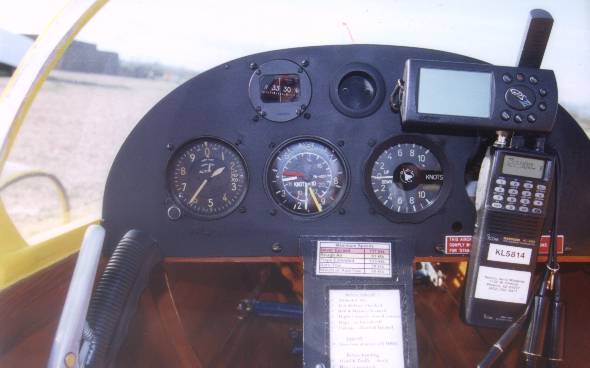 The panel March 3, 2001. The GPS and handheld radio are portable additions.
---
The old ship drew a crowd when it came out of the trailer and many cannot believe how old it is.
---
These pictures taken on AGFA film.

---
Created 7 March 2001.
Updated 18 November 2011
Copyright 2001-2011 by Paul R. Jorgenson
Return to Paul's Glider Home Page